Apple & Cranberry Flapjacks
Recipe Ingredients
– 2 large cooking apples
– 6 dates
– 1 tbsp water
– 20g smooth peanut butter
– 20g dairy free butter
– 20g coconut oil
– 40g honey
– 280g rolled oats
– 60g desiccated coconut
– 60g flaxseed
– 150g dried cranberries
To serve: 100g low fat natural yoghurt per flapjack.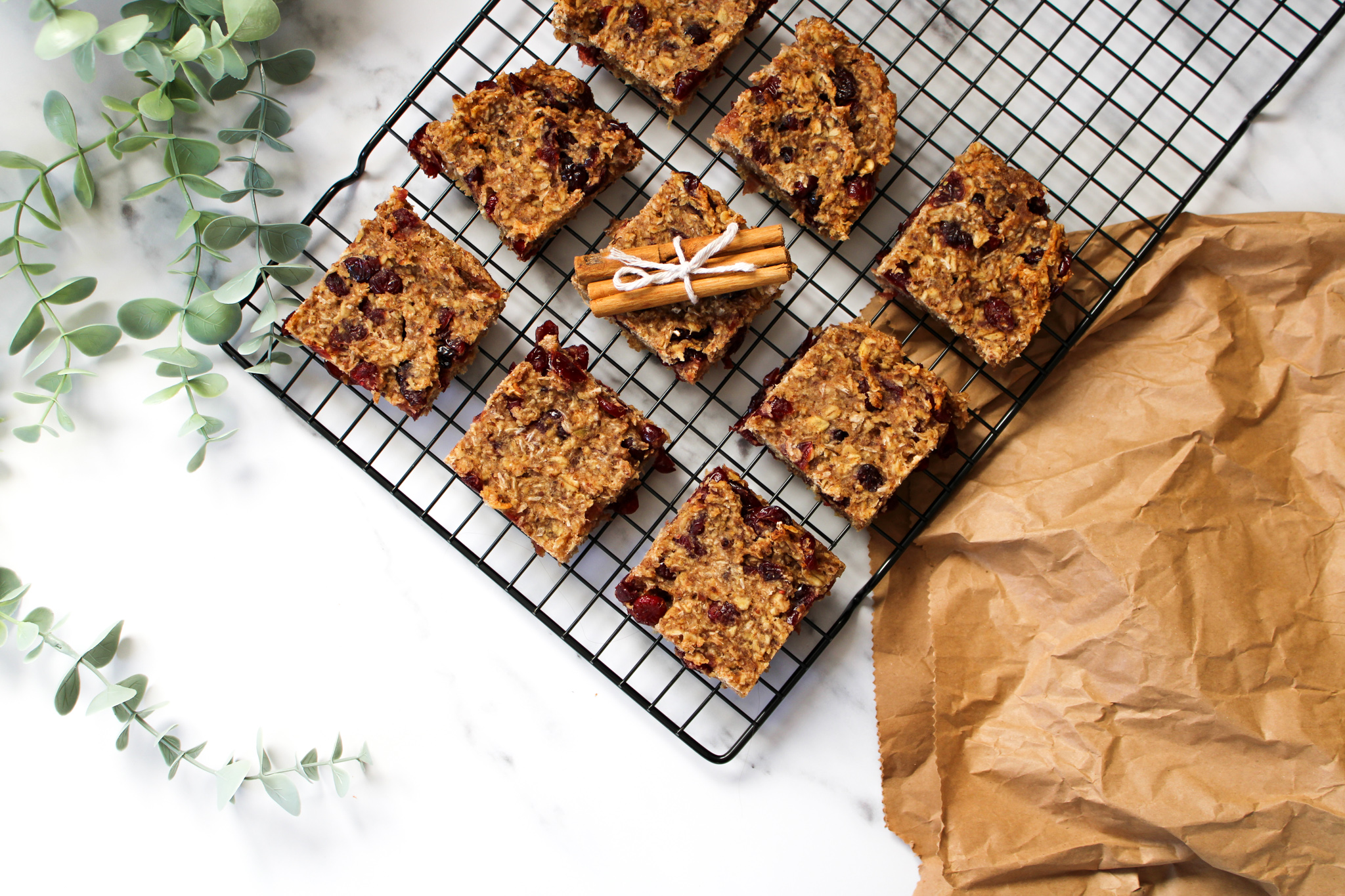 Ah the holidays, don't you just love that cozy, warm, sitting-by-the-fire feeling? No matter how strange or different this festive season might be, the holidays are still the holidays and they deserve to be special. What better time to treat yourselves a little with this 'Apple Cranberry Flapjack' special.
Bake it for your family or with them for a fun holiday stay-at-home activity. The plus side? Once the tray is in the oven, the aromas that will fill your home will put you straight into that holiday spirit!
Method
Preheat your oven to 140 degrees.
Peel and chop your apples into 2cm chunks and add to a pan for 15 minutes with the cinnamon and 2 tbsp of water.
Place your (pitted) dates into a blender with 4tbsp hot water and allow to soak. Once the apples are soft add these to the blender and blend until smooth.
Using the same pan melt together the peanut butter, dairy free butter, coconut oil and
honey before adding the apple mixture.
Combine the dry ingredients of oats, desiccated coconut, flaxseed and cranberries. Stir the dry ingredients into the wet ingredients on a low-to-medium heat for 5 minutes.
Grease a 20cm by 20cm baking tray with a little butter and line with baking paper. Add your mixture to the tray and press down firmly.
Bake in the oven for 30 minutes and allow to cool once cooked.
Nutritional Breakdown
Total calories – 262
Carbohydrates – 44g
Protein – 10.8g
Fats – 15.8g
With slow release energy from the oats these flapjacks are the perfect breakfast or snack idea for on-the-go. Bursting with spiced, fruity flavours these really do hit the spot on those hectic days!
Receive 10 free recipes to your inbox!
Sign up and we will send you 10 free recipes