Recipe Ingredients
1 tablespoon vegetable oil
1 large red onion, chopped
2 carrots, chopped
3 celery sticks, chopped
500g (1lb 2oz) lean braising steak, diced
3 tablespoons tomato purée
800ml (3 1/4 cups) good beef stock
2 x 400g (14oz) cans chopped tomatoes
1 rosemary sprig
1 thyme sprig
1/2 teaspoon fine salt
1/2 teaspoon black pepper
100g ( 1/2 cup) dried red lentils, rinsed in cold water
FOR THE CAULIFLOWER MASH
1 large cauliflower, cut into florets (about 700g/1lb 9oz)
1 1/2 tablespoons hot horseradish sauce
50g (scant 1/4 cup) low-fat cream cheese
50g (1 3/4 oz) watercress, chopped
sea salt and black pepper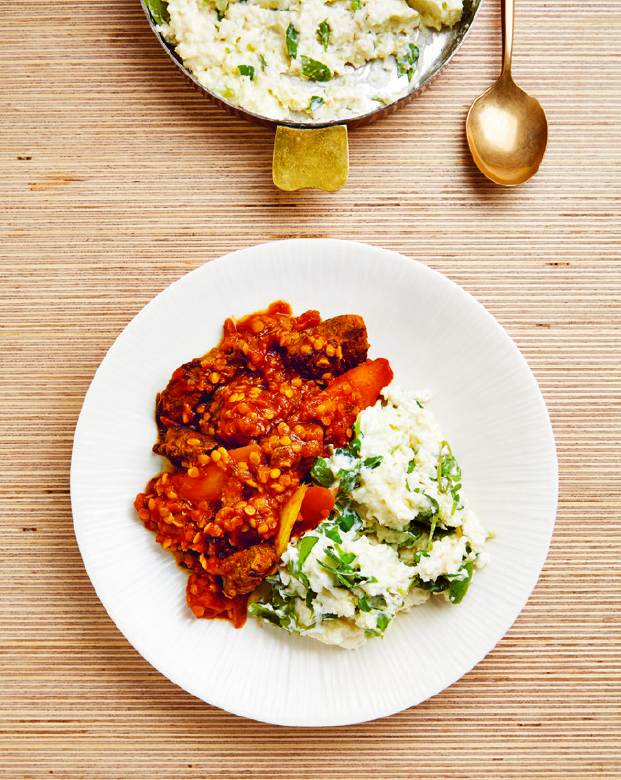 This might look like a lot of ingredients, but it's so simple to make and the slow cooking does all the work. You can make the stew ahead and freeze it, so this recipe is great for batch-cooking. Cauliflower mash is a wonderful potato substitute, and is so good at soaking up all the delicious stew juices.
Method:
Heat the oil in a large saucepan over medium heat and cook the onion, carrots and celery until starting to soften.
Turn up the heat a bit, add the steak and cook, stirring, until browned all over.
Stir in the tomato purée, 500ml (2 cups) of the stock, the canned tomatoes, herbs, salt and pepper. Bring to the boil then simmer gently for 1 1/2 hours until the beef is nearly tender, skimming off any surface fat as the beef cooks.
Add the lentils to the stew and the remaining stock if the stew looks dry. Simmer for 20 minutes more until the lentils are tender.
For the cauliflower mash, cook the cauliflower florets in a saucepan of salted boiling water for 5 minutes. Drain well and allow to steam dry for a few minutes (otherwise the mash might be soggy).
Return the cauliflower to the pan with the horseradish and cream cheese and mash well.
Season the mash, have a taste and add a little more horseradish if you like. Mix through the chopped watercress and serve the mash with the stew.
Receive 10 free recipes to your inbox!
Sign up and we will send you 10 free recipes