Broccoli, Cauliflower & Paneer Curry (v)
Recipe Ingredients
1 tablespoon groundnut oil
225g (8oz) paneer cheese, cubed
100g (⅓ cup) cauliflower florets
100g (1/2 cup) broccoli florets
2 onions, finely sliced
1 garlic clove, crushed
1 tablespoon mild curry paste
100ml (scant 1/2 cup) good vegetable stock
500g (2 cups) passata or sieved tomatoes
200g (7oz) frozen chopped spinach
2 tablespoons unsweetened desiccated coconut, plus extra to sprinkle
175g (3/4 cup) low-fat Greek yogurt
2 spring onions, finely sliced
sea salt and black pepper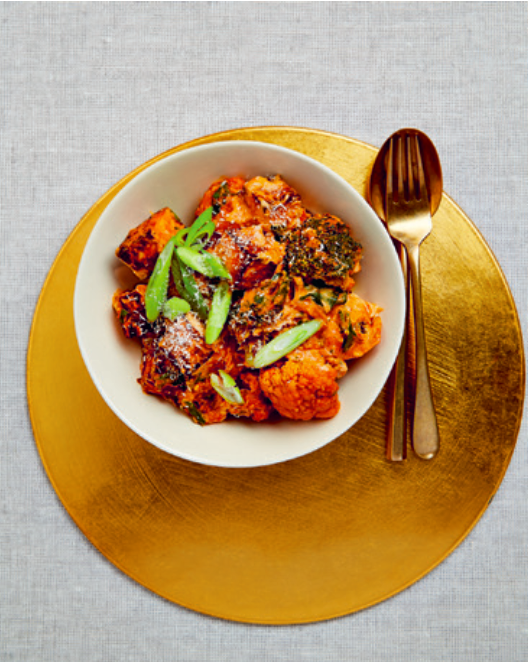 In the Lifestyle Phase I make this with full-fat cheese and serve with a side of yogurt, cucumber topped with mustard seeds and warm wholemeal roti. It's a great dish for family suppers now the children are back to school!
Serves 4
Method:
Heat the oil in a large deep frying pan over medium-high heat and brown the paneer on all sides. Remove from the pan and set aside.
Next add the cauliflower and broccoli to the pan and sauté until beginning to colour, then turn down the heat a little and add the onions.
Fry for a couple of minutes, stirring, to soften before adding the garlic, curry paste and stock. Cook for a few seconds.
Pour in the passata and mix in the spinach and coconut. Bring to the boil and simmer for 10 minutes until the veggies are tender and the sauce has thickened.
Stir in the yogurt and paneer. Heat through and season to taste. Sprinkle over the spring onions and a little more coconut and it's ready for serving.
Receive 10 free recipes to your inbox!
Sign up and we will send you 10 free recipes