Herby Chicken, Peach & Feta Salad
Recipe Ingredients
2 ripe peaches, halved and stoned
1/2 tablespoon olive oil
200g (7oz) cooked chicken, shredded
small handful of mint leaves, chopped
small handful of basil leaves, chopped
2 tablespoons chopped chives
75g (2.oz) pea shoots
75g (2.oz) feta, crumbled
50g (1/2 cup) walnuts, chopped
FOR THE DRESSING
1 teaspoon wholegrain mustard
1 1/2  tablespoons extra virgin olive oil
finely grated zest of 1 lime
juice of 1/2 lime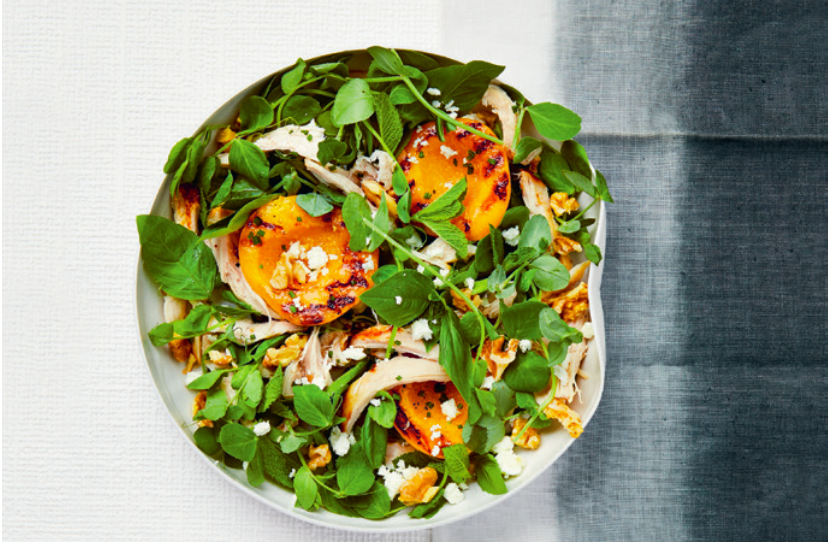 I love this sweet and salty combination. Simply one of my favourite summer salads, this also works well with barbecued chicken, nectarines or fresh figs. Go heavy on the herbs for extra zing.
Serves 2
Method
Heat a griddle pan over high heat.
Brush the peaches with the oil and griddle, cut side down, until lovely and charred.
Meanwhile, mix the dressing ingredients together in a large bowl and toss in the chicken, herbs and pea shoots.
Serve the chicken mixture topped with the luscious griddled peaches, the feta and walnuts.
Receive 10 free recipes to your inbox!
Sign up and we will send you 10 free recipes