Recipe Ingredients
1 tablespoon of unsalted butter
1 tablespoon of olive oil
9 large onions, finely sliced
1 bay leaf (dried is fine)
100ml (scant 1/2 cup) good brandy
100ml (scant 1/2 cup (white wine)
1.5 litres (6 cups) good beef stock (you can find this in the chilled section in the supermarket)
600g (1lb 5oz) sliced leftover beef fillet
Leaves from 1 bunch of flat leaf parsley, roughly chopped
2 tablespoons finely grated pecorino cheese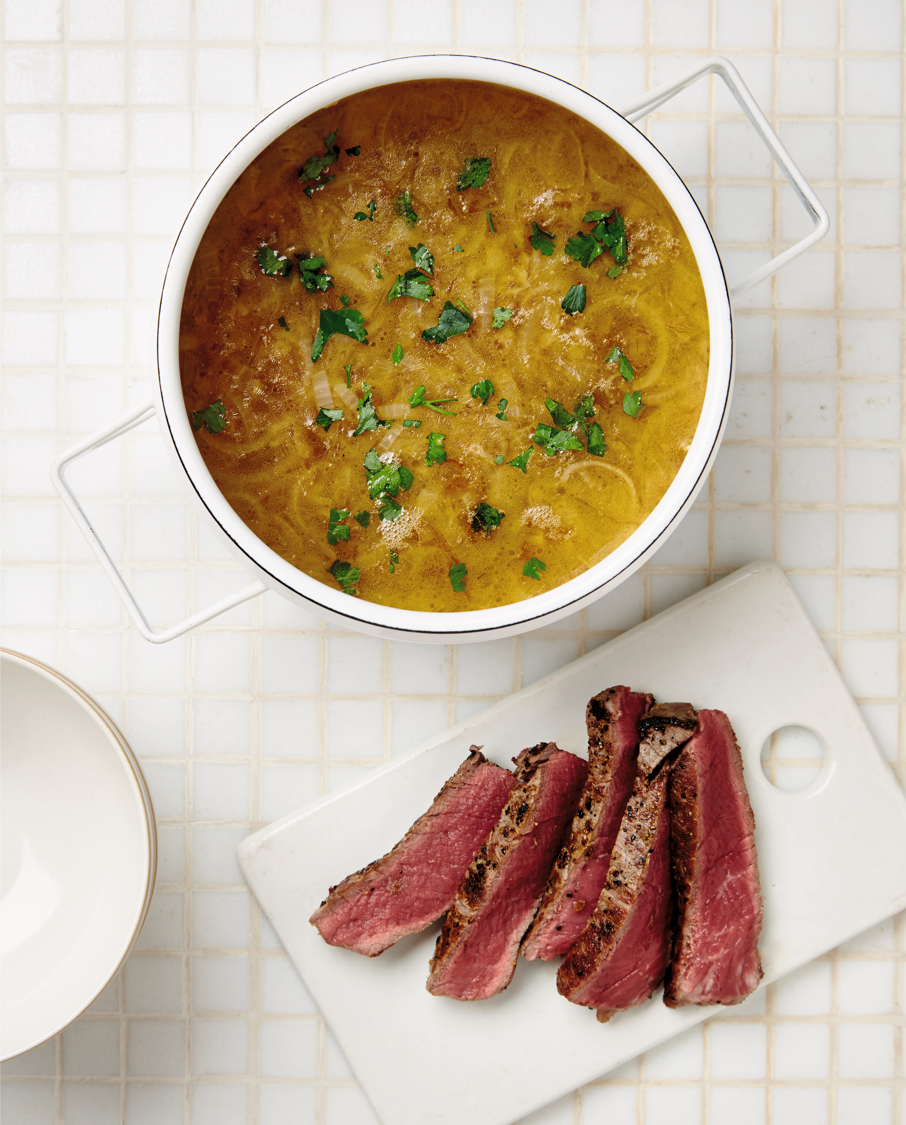 A delicious, warming soup recipe…
Don't be deterred by the name of this one – this recipe is so-named 'Husband Soup' because Mr P gets roped into the most tedious part of its creation: finely slicing the onions. Taken from Louise's second book Lean for Life: The Cookbook, it's a great winter warmer for those of us in the UK, where the temperature is steadily decreasing, and for those of you who are in sunnier climes, it makes for a delicious lunch.
Method:
Heat the butter and oil in a large saucepan over a medium heat and add the onions all in one go.
Slowly stir them until – after about 15 minutes – they turn very soft and brown. If you rush this part and the onions don't brown beautifully, the soup won't wow you.
Deglaze the pan with the brandy and wine, scraping the base of the pan to get off all the good browned bits, then add the stock.
Return to the boil and simmer gently, with the lid off, for another 10 minutes
Add the slices of beef
Once the slices of beef are piping hot, serve the soup in big bowls, sprinkled with parsley and pecorino.
Enjoy and let us know what you think!
You can find lots more soup recipes in Louise's second book, available from Amazon.
The Louise Parker Method: Lean for Life: The Cookbook by Louise Parker is published by Mitchell Beazley, £20 (www.octopusbooks.co.uk). Photography by Louise Hagger and Chris Terry.
Receive 10 free recipes to your inbox!
Sign up and we will send you 10 free recipes