Lamb curry with Spiced Cauliflower Rice
Recipe Ingredients
1 tablespoon groundnut oil
2 onions, finely sliced
2 carrots, finely diced
2 garlic cloves, crushed
1 tablespoon peeled and grated fresh root ginger
1 red chilli, chopped
1 teaspoon ground cumin
1 teaspoon ground coriander
400g (14oz) lamb leg steaks (visible fat trimmed), cubed
2 x 400g (14oz) cans chopped tomatoes
25g (scant 1/4 cup) toasted flaked almonds
sea salt and black pepper
FOR THE CAULIFLOWER RICE
1 large cauliflower, cut into florets (about 700g/1lb 9oz)
1 teaspoon black onion seeds
1/4 teaspoon ground turmeric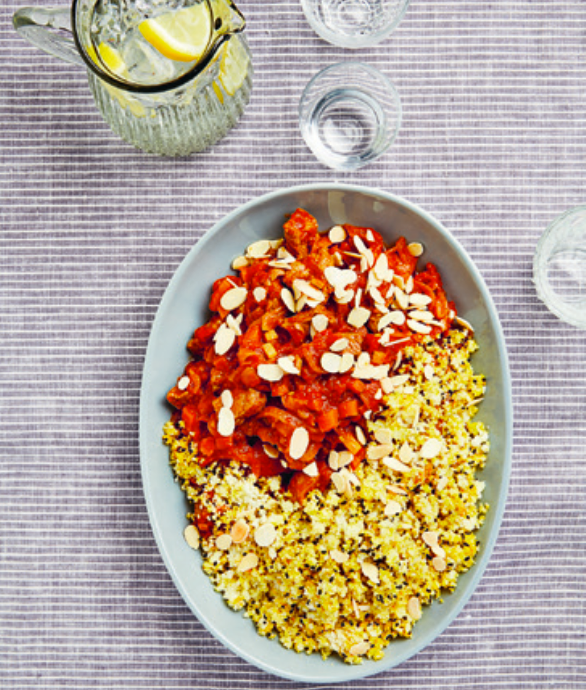 This is my go-to-in-a-hurry curry. Because the lamb leg steaks are relatively lean, they don't need slow cooking. Turmeric and black onion seeds are what make this cauliflower rice such a nice accompaniment to any curry.
Method:
Heat the oil in a large deep frying pan over low-medium heat and cook the onions and carrots, stirring often, until they are golden (have patience, softened onions are the base of a good curry).
Add the garlic, ginger, chilli and ground spices and fry for 1 minute.
Add the lamb to the pan and cook for a couple of minutes to brown the meat. Then add the chopped tomatoes and simmer for 15 minutes.
Meanwhile, pulse the cauliflower in a food processor until it looks like rice. Heat a splash of water in a large frying pan over high heat.
Add the cauliflower, black onion seeds and turmeric and cook for about 5 minutes until tender, adding a splash more water if needed.
Season to taste. Season the lamb curry, scatter over the almonds and serve with the cauliflower rice.
Receive 10 free recipes to your inbox!
Sign up and we will send you 10 free recipes