Recipe Ingredients
1 tablespoon olive oil
1 large red onion, chopped
2 garlic cloves, finely chopped
2 celery sticks, chopped
2 carrots, coarsely grated
1 large courgette, coarsely grated
3 tablespoons tomato purée
2 x 400g (14oz) cans green lentils, drained and rinsed
400g (14oz) can chopped tomatoes
500ml (2 cups) good vegetable stock
2 red chillies, finely chopped
1 teaspoon hot smoked paprika
1 teaspoon dried oregano
1/2 teaspoon sea salt
1/2 teaspoon black pepper
50g (1/2 cup) grated mature Cheddar cheese
FOR THE SALSA
2 ripe avocados
chopped finely grated zest and juice of 1 lime leaves from 1 bunch of coriander, chopped
2 spring onions, sliced
4 tomatoes, roughly chopped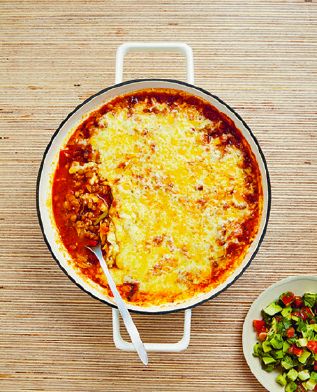 This makes a spicy chilli bake – add less chilli if you prefer, or remove the seeds for a milder taste. You can make the lentil mixture ahead of time, and chill or freeze it until ready to serve. Then defrost if necessary, sprinkle with the cheese and bake until piping hot.

Serves 4

Method:

Preheat the oven to 180°C/350°F/Gas Mark 4.
Heat the oil in a large frying pan and sweat the onion, garlic and celery until translucent, about 10 minutes.
Stir in all the remaining ingredients apart from the Cheddar and simmer for 15 minutes until thick and lovely.
Taste and adjust the seasoning as you like.
When ready to serve, transfer the mixture to an ovenproof casserole dish and sprinkle over the Cheddar. Bake for 20 minutes until the mixture is piping hot and the cheese is golden and bubbling.
Meanwhile, make the salsa by mixing together all the ingredients and seasoning to taste. Serve with the chilli.
Receive 10 free recipes to your inbox!
Sign up and we will send you 10 free recipes