Recipe Ingredients
2 skinless chicken breasts, about 150g (5.oz) each
2 tablespoons tomato purée
1 teaspoon chipotle paste
finely grated zest of 1 lime
1 teaspoon olive oil
sea salt and black pepper
lime wedges, to serve
FOR THE SALSA
2 whole roasted peppers from a jar, drained and chopped
150g (1. cups) cherry tomatoes, halved
400g (14oz) can black-eyed beans, drained and rinsed
100g (scant 1/2 cup) sweetcorn kernels
1 red onion, finely sliced
1 red chilli, sliced
juice of 1 lime
leaves from 1 bunch of coriander, chopped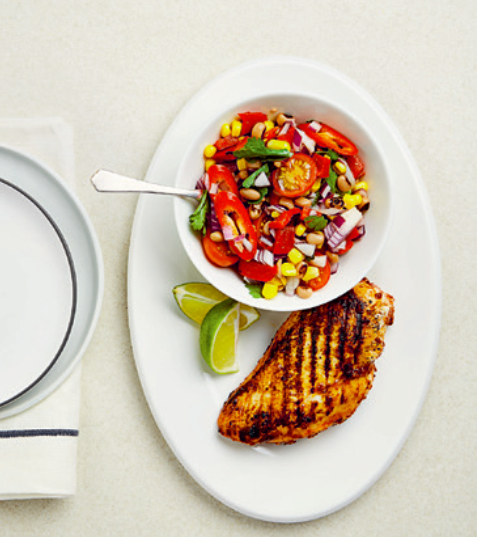 Great for griddling and barbecuing – so this is perfect if you're trying to fit one more barbecue in before the end of summer! You can roast your own peppers for 20–25 minutes in a very hot oven. Once cooled a little, squeeze out the pips and liquid, remove the skin and roughly chop the flesh.
Method
Place the chicken in a sandwich bag or non-metallic bowl with the tomato purée, chipotle paste and lime zest and season to taste.
Close (or cover) and leave to marinate in the fridge for 30 minutes or overnight if you want to get ahead. Sometimes, if I'm really pushed for time, I leave out the marinating time.
Heat the oil in a nonstick griddle pan and pop in the chicken. Griddle, turning occasionally, until beautifully stripy on both sides and cooked through – about 10 minutes in total.
Meanwhile, mix all the salsa ingredients in a large bowl and season to taste. Serve with the griddled chicken, with lime wedges to squeeze over.
Receive 10 free recipes to your inbox!
Sign up and we will send you 10 free recipes