Mr P's Roast Veggie Curry
Recipe Ingredients
– 1 sweet potato
– 1 aubergine
– 1 cauliflower
– Pinch of garam masala
– Teaspoon of olive oil
– 5 cloves of garlic
– 1 pack of Patak's curry paste
– 3 large tomatoes
– squeeze of tomato paste
– 400g chick peas
– Tablespoon greek yoghurt
– Chopped coriander to garnish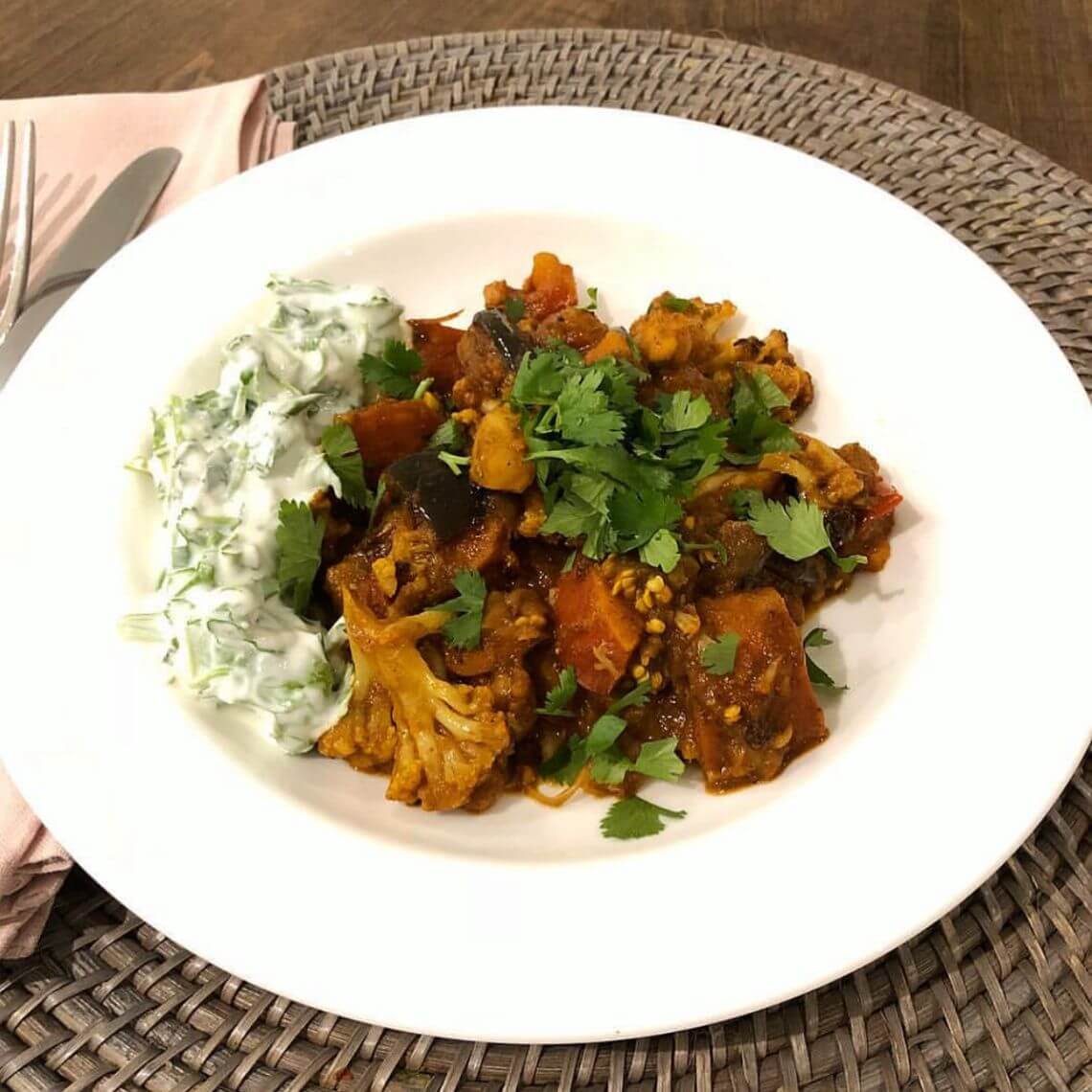 This curry passes the Mr P test and so you can be sure it's simple to make and low on faff. It's also absolutely delicious. Give it a go and let me know what you think!
Here's the recipe. This serves about 4-6 and is delicious the next day for lunch if you have extra leftover….
Slice one sweet potato, one aubergine and one cauliflower into 1 cm pieces. Put into a bowl, spray lightly with olive oil, add garam masala and mix so vegetables are evenly covered. Roast at 180C for 20 mins.
Separately in a pan, fry 5 cloves of chopped garlic in a few sprays of olive oil. After a couple of minutes at a dessert spoon of Patak's curry paste and fry for a couple of mins more. Add 3 large chopped tomatoes and a squeeze of tomato paste and cook for another 5 mins. Then add in 400g of chick peas (we use Brindisa which are a little more expensive than tinned but are sooo much nicer- try them and I promise you won't be disappointed) with the water they come in and simmer for 10 mins.
Take the spiced roast veggies out of the oven and add to the pan. Cook for another 10 mins (or add a little water and allow to cook down to intensify the flavours. The longer and slower you can cook it for the nicer it will be!).
Serve with yoghurt with chopped coriander mixed in and sprinkle with a little extra coriander to garnish.
Lean, meat-free and utterly delicious.
For another vegetable-laden meal, why not give our chipotle black bean bowl a go. Click here for the recipe.
Enjoy! Lx
Receive 10 free recipes to your inbox!
Sign up and we will send you 10 free recipes