Orange, Hazelnut & Cinnamon Bircher (v)
Recipe Ingredients
FOR THE BIRCHER
2 tablespoons jumbo oats
150g (generous 1 3/4oz cup) low-fat Greek yogurt
4 tablespoons skimmed milk
1/2 teaspoon vanilla bean paste
1/2 teaspoon stevia
50g (1.oz) orange purée
1 teaspoon ground cinnamon
1 tablespoon chopped toasted hazelnuts
FOR THE ORANGE PURÉE
2 oranges
2 lemons
2 litres (8 cups) water
stevia, to taste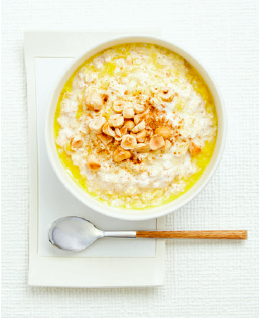 This citrus purée is worth the effort, so batch it. It's fab spooned on thick Greek yogurt, pancakes or as a smoothie base. Be bold with the cinnamon, these flavours love it.
(Serves 1 with leftover puree)
Method: 
To make the bircher, mix together the oats,  yogurt, milk, vanilla and stevia. Cover and leave to soak overnight in the fridge. For the purée, cut off and discard the ends of the fruit. Now cut the fruit into large wedges. Pop into a saucepan and add the water, making sure the fruit is covered (add more water if not). Bring to the boil, then simmer for 2 hours, topping up with water when necessary. Drain through a colander and leave the fruit wedges to cool. Whizz in a high-speed blender until lovely and smooth, then stir in the stevia.
Chill until ready to serve.
Serve the bircher with 4–5 tablespoons of orange purée marbled through, sprinkled with the cinnamon and chopped hazelnuts.
Store the leftover purée in the fridge for up to 3 days.
Receive 10 free recipes to your inbox!
Sign up and we will send you 10 free recipes