Sophie's Summer Gaspacho (Vg)
Recipe Ingredients
1 cucumber, peeled and chopped
1 red pepper, cored, deseeded and chopped
1 green pepper, cored, deseeded and chopped
800g (1lb 12oz) very ripe plum tomatoes, chopped
3 spring onions, chopped
2 garlic cloves, chopped
1 tablespoon red wine vinegar
2 tablespoons extra virgin olive oil, plus extra to serve
1/2 teaspoon paprika
1/2 teaspoon sea salt
1/2 teaspoon black pepper
400g (14oz) can butterbeans, drained and rinsed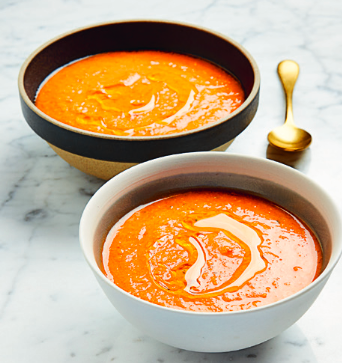 My eldest daughter's favourite summer soup, and simple enough for her to make. An authentic gazpacho is made with bread, giving it that unique texture, but I've swapped the bread for butterbeans, which add creaminess and protein. This is a great recipe for making in advance because it's at its best when it's had a day to rest in the fridge.
Method
Put all the ingredients into a high-speed blender and give them a really good whizz until extra smooth.
Taste and check whether the consistency and seasoning are right for you; if not add a little water or more salt and pepper.
Pop in the fridge until really cold – this also gives the flavours time to mingle. Serve with a simple swirl of olive oil.
Receive 10 free recipes to your inbox!
Sign up and we will send you 10 free recipes