Summer Samui Salmon Burgers
Recipe Ingredients
600g (1lb 5oz) skinless salmon fillets
2 teaspoons Thai green curry paste
2 tablespoons peeled and grated
fresh root ginger
large handful of fresh coriander, roughly chopped
finely grated zest of 1 lime
1 teaspoon groundnut oil
sea salt and black pepper
FOR THE SALAD
1 cucumber
150g (2 cups) sugar snap peas, shredded
2 spring onions, shredded
1 teaspoon sesame oil
juice of 1/2 lime
1 tablespoon black and white sesame seeds
50g (1/2 cup) cashew nuts, roasted and chopped
handful of flat leaf parsley leaves, finely chopped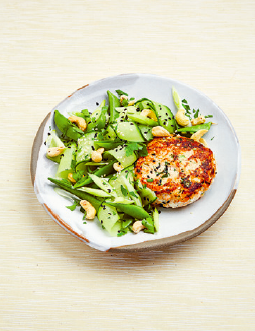 Hi,
As this weekend is the last bank holiday of the summer I have decided to share with you a perfect summer recipe for you to enjoy with your family on a barbecue. These work brilliantly with a little Indian curry paste too, and with ground pork or chicken.
Top Tip: I batch and freeze them in clingfilm.
(Serves 4)
Method:
Put the salmon into a food processor with the curry paste, ginger, coriander and lime zest, season to taste and whizz until finely chopped and coming together. Shape into 4 flattened patties, cover and chill for 10 minutes to firm up.
Meanwhile, use a vegetable peeler to peel the cucumber into ribbons, discarding the inner seedy core. Put into a salad bowl with the remaining salad ingredients and toss to coat.
Set aside.
Heat the oil in a large nonstick frying pan and fry the salmon burgers for 10 minutes, turning once, until cooked through. Serve the burgers with the salad.
Best wishes,
Louise x
Receive 10 free recipes to your inbox!
Sign up and we will send you 10 free recipes