Vegan Ferrero Energy Balls
Recipe Ingredients
– 65g hazelnut butter
– 35g cup agave (+1 tsp to coat)
– 50g rolled oats
– 30g flaxseed
– 30g desiccated coconut
– 50g vanilla protein powder
– 20g dark chocolate (chopped)
– 1/2 tsp cinnamon
– 1 tbsp cacao powder
– 30g chopped hazelnuts (to coat)
– 4 tbsp water
To serve: 40g raspberries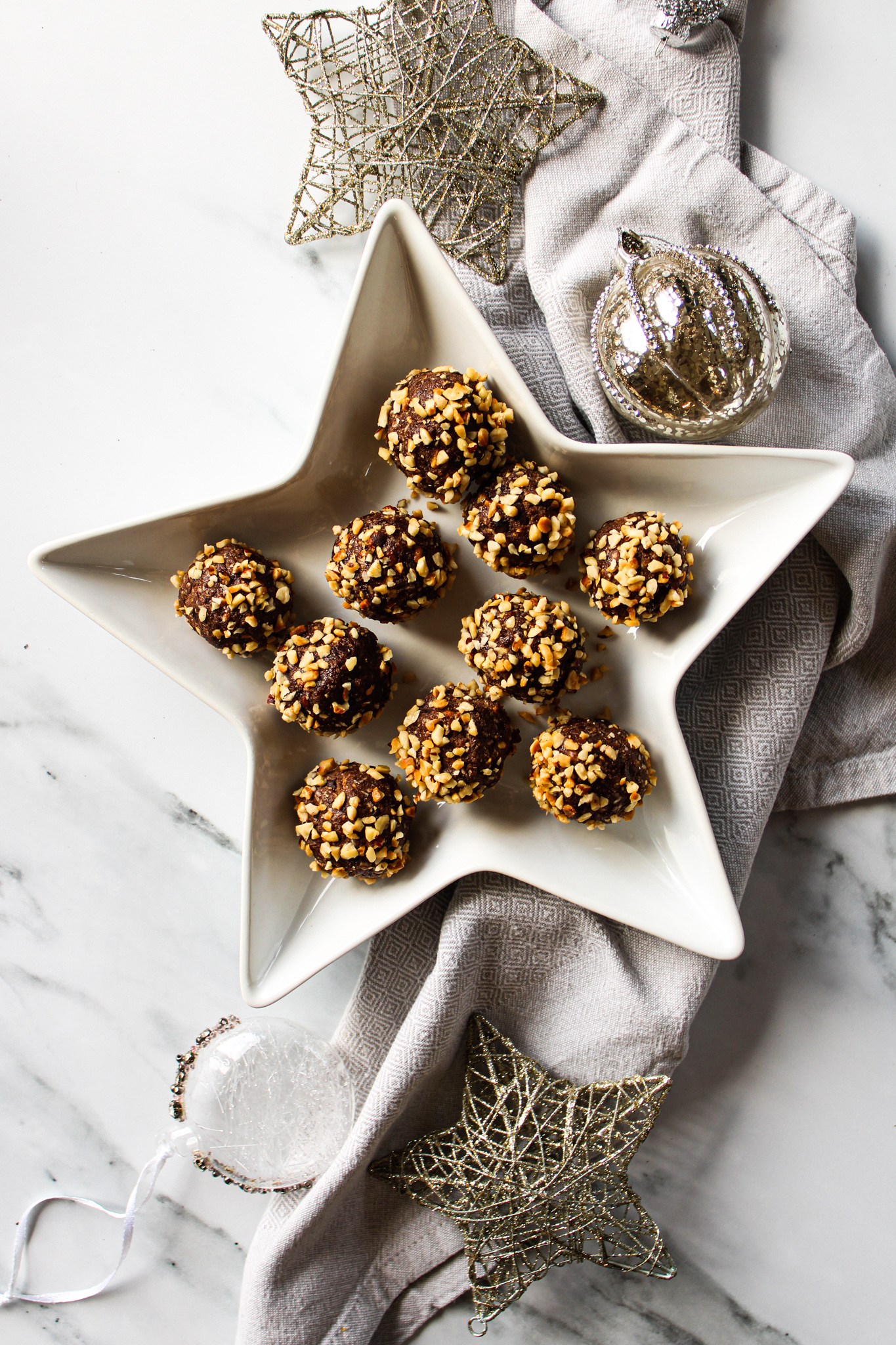 With the big Christmas dinners and lunches out the way do you still have those sweet-tooth cravings even though you've promised yourself that you'd try to be healthier? These Vegan Ferrero Energy Balls are the perfect compromise! Packed with rich flavours and an overall irresistible goodness, these Ferrero alternatives are full of protein and healthy fats. But don't just take my word for it, try them yourselves, you'll thank us later!
Method
Mix together the dry ingredients in a bow before blending until they form a rough powder.
Combine this with the wet ingredients, adding the water to help the mixture stick together (add 1-2 tbsp more water if needed).
Roll the mixture into 12 balls and place in a shallow dish drizzling with 1 tsp agave nectar and shaking the dish until the balls are coated evenly.
In another shallow dish place your chopped hazel nuts and add a few balls at a time, shaking the dish again to coat the balls.
Place these in the fridge for 1 hour and enjoy with a serving of fruit such as raspberries for a delicious and decadent pick-me-up snack that will give you that festive feeling!
Nutritional Breakdown
Total calories – 154.8
Carbohydrates – 11.2g
Protein – 6.6g

Fats – 9.6g
Receive 10 free recipes to your inbox!
Sign up and we will send you 10 free recipes