What Can I Expect on a Louise Parker Programme?
Are you looking for more tips on intelligent, sustainable weight loss?
Join 18,000 others and subscribe to our email newsletter today.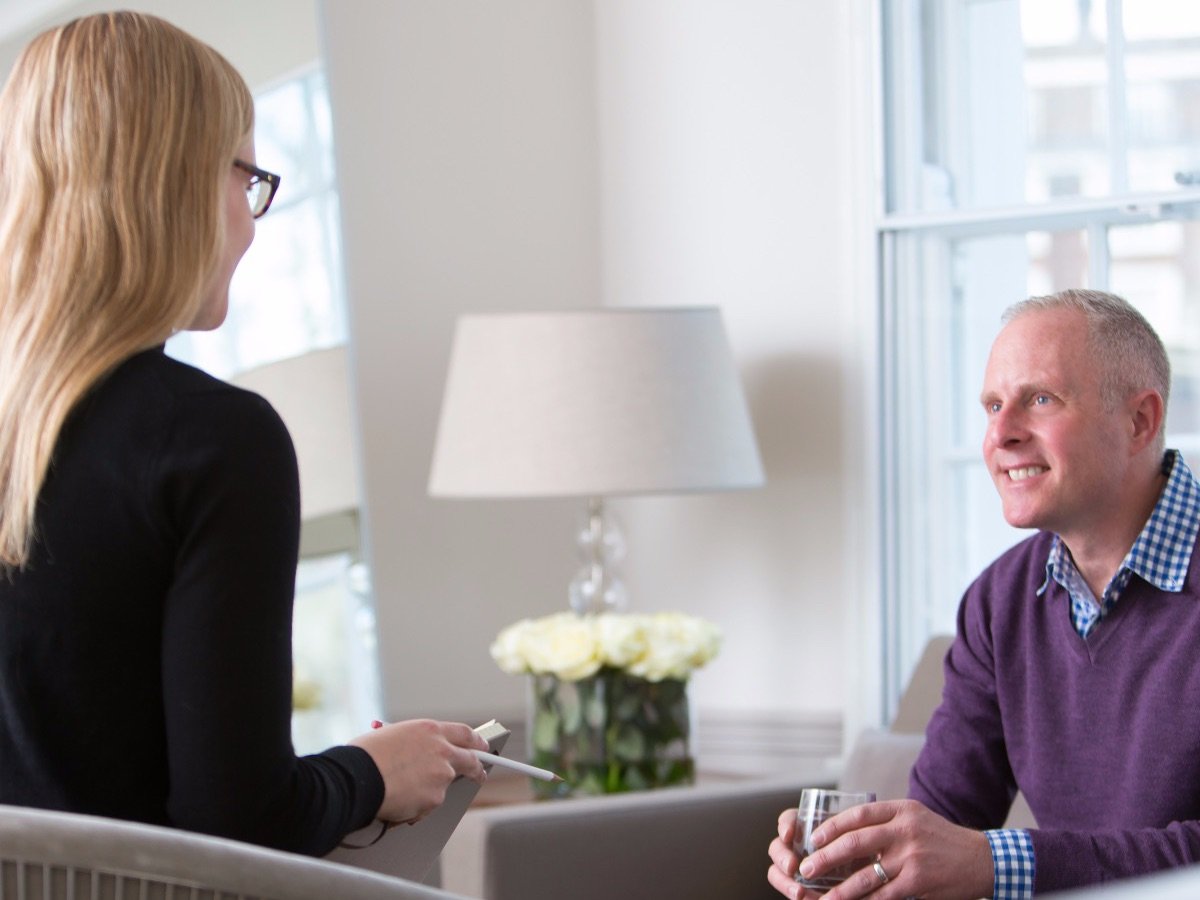 If you're looking for intelligent, sustainable weight loss, then a Louise Parker programme may be right for you. To help you understand if our Method is suitable for you, we've put together a short guide on what you can expect on one of our programmes.
Making the decision
Before you start a Louise Parker programme, you'll likely want to contact us to find out more about what you can expect. We're here to answer any questions you have, in fact it's very normal for us to speak to clients a number of times before they go ahead. We'll take time to understand any worries and concerns you have and explain the ways we will help you to overcome these.
Every client and every goal matter equally to us and so whether you're pre-diabetic and needing to lose 30kgs on health grounds, or looking to transform for a beach holiday and beyond, you'll receive the same level of care and kindness from the whole team.
We'll always provide facts and reassurance, and an honest view about whether we're the best option for you.
Fed up after 20-years of dieting and ready to change? We'd love to help and know we can help you to profoundly change.
Feeling flat and want to optimize your energy levels and long-term health? You've come to the right place.
Want to crash diet to drop two dress sizes as quickly as possible? We'll likely pass on the crash diet but we could share with you how to lose those 2 dress sizes in the most sustainable and healthy way. You won't regret it.
Post-natal, breastfeeding, and want to lose weight? We're happy to help optimize your nutrition but we wouldn't discuss weight loss until you've finished breastfeeding.
If you're unsure about starting, don't expect us to 'convince' you to go ahead. Instead take time to pick our brains or maybe try a complementary lifestyle consultation (click here to answer a short survey and book your consultation). These consultations take a deeper look into the obstacles and barriers you face and offer tips about how to overcome these. They're a mini insight into our approach, as well as providing you with practical changes you can make today.
Finally, don't worry about a hard sell. There'll never be any pressure from us. The final decision is always yours. Our programmes work because you truly want to be joining them and are excited about the change ahead!
Going Ahead With a Louise Parker Programme
Once you're ready to start a programme, we'll take your personal details and make the arrangements for your consultations (this is the same process whether you come in and see us or if you're working with us via Skype or FaceTime).
If you have any particular health or medical considerations like IBS and gut health, pre-diabetes or pre-/post-natal we'll book you in with a specialist dietitian in the team with this expertise.
All our programmes start with an initial 60min consultation followed by a 90min Food Plan consultation. Then after these two appointments we will start your weekly support with 45min consultations.
To secure your place in a programme we book in 2.5 hours of initial consultations with your dietitian. We also ask you to complete an in-depth pre-programme questionnaire to provide essential background that forms the starting point to tailoring your programme.
Initial Consultation
Your initial consultation with your dietitian lasts for 60 minutes. In this consultation we'll explore a broad range of areas across your lifestyle. Our dietitians will paint a technicolour picture of your lifestyle, the barriers you face and your end goal. This information is vital to guide your programme. There are no fitness tests, blood tests or anything else you need to prepare for, although if your dietitian thinks it would be useful to get some blood tests done either at the start or during the programme, it will be something we will discuss with you.
Kindness and care are at the heart of our approach. Your dietitian will help you to create a lifestyle you find positive and inspiring. We want it to be a lifestyle that fits comfortably and that you can wear with a spring in your step and a smile on your face. Your relationship and rapport with your dietitian will reflect this. We embrace progress over perfection and approach programmes with lightness, humour and warmth.
We want you to feel relaxed in our confidential and comfortable consultation rooms. Whilst our dietitians are medically registered, they don't wear white coats and won't talk to you from behind a desk. Consultations take place in comfortable armchairs or sofas with a cup of tea, coffee or herbal tea always to hand.
We'll take measurements on the body composition scales if you come to one of our clinics or use your measurements if working remotely. We'll also compile a full medical history as it's important for your dietitian to know about operations, medications and conditions you either have or have previously suffered from. These can be essential to overcoming obstacles during your programme. Our dietitians will also check that the nutritional guidance they build for you is compatible and complementary to any medication you are taking. We like to work in partnership with your GP or other health care professionals and, with your consent, will contact them to keep them fully informed of your programme (of course, if you do not want us to then we won't contact them).
Your lifestyle is a crucial factor that we explore in your initial consultations. This includes relationships, work, family pressures, exercise, travel, sleep, stress and much more. These elements often hold the key to unlocking your progress and so the more information you share with us, the better equipped we are to provide the right coaching for you.
If your second consultation is more than a few days after your first, we'll provide some foundational advice and actions you can start to take immediately after this consultation.
Consultation Two: Your Introduction to the Method
Your second consultation provides the blueprint for your programme over the coming weeks. We'll explore all four pillars with you and take a deep-dive into the nutrition pillar. We will take you through the science and fundamentals of your nutritional guidance and introduce you to example recipes and on-the-go options. We'll also work with you to plan your week ahead.
Your Louise Parker programme booklet is based upon the fundamentals of our method. We will tailor this document to you from our core approach. We don't write a new guide for each client and you don't want us to. Writing a 'new' plan for you would mean you're a one-person experiment. Instead with our method, you receive expert tailored coaching which is the culmination of two decades of refinement of the programme. Because of this, we need a minimum of 48 hours after your initial consultation to prepare. Prior to your second consultation, your dietitian will send you your booklet via email so you have the opportunity to familiarize yourself with the programme principles.
Weekly Consultations
After this consultation, your programme is up and running and the focus shifts to your weekly appointments with your dietitian. Whether you visit us at one of our clinics or work with us remotely, your dietitian will always be in their consultation room and available for you during your appointment. The weekly consultations are 30 to 45 minutes in length and we have appointments as early as 8am or as late as 7pm.
Your weekly appointments are where the bulk of the tailoring happens. There is no one size fits all approach to these and we flex them based upon what you need each week, how you are feeling and the progress you are making. Some weeks this will explore your lifestyle and the challenges of integrating your family life with your programme or dealing with social situations. Sometimes the coaching will help you with your thoughts and behaviours associated with food or dealing with the behaviours of others – maybe an unsupportive partner. Or we could focus on food and the science and research that might help you overcome your bloating or boost your gut health. Or as is often the way, your consultation will explore a combination of these factors looking at the week you've just had and the week ahead.
Everything you say in your consultation is completely confidential. Our dietitians are registered with the Health and Care Professions Council and so are regulated by a strict code of conduct and ethics.
As you progress, so we progress your programme. After 6 or 12-weeks of appointments, we will have helped you to create the foundation for your new normal. We'll optimize your nutrition so it works for your lifestyle, coach you on the skills to deal with the challenges you face and show you how change snowballs to help you feel fabulous.
In addition to your weekly appointment, you'll be able to contact your dietitian by email or using the Louise Parker programme app during the week for any urgent questions or if you feel you need a little extra support. We'll also be in contact with you from time to time to make sure you're feeling good.
The programme end – or the start of a new beginning?
In your final consultation, we'll reflect together on the progress you've made in each of the four pillars. We'll also set goals and outline areas you find challenging. Our aim is that at the time complete your Louise Parker programme, you'll have the behaviours, habits and roadmap to independently manage your new lifestyle.
We'll also take another look at the final results you've achieved and, with your consent, we will also share this information with your GP once again.
If you're not ready to manage things completely independently, we have a range of options to continue to support you with tapered consultations to help guide you to self-sufficiency.
Forever is a long time
Our mission is to create life-changing impacts for clients, however, it's totally normal to have a blip along the way. In fact, it's unusual not to – life throws up all kinds of adversity. When this happens, we will encourage you to contact your dietitian as we're always happy to offer some extra support, advice and help in any way we can.
We hope this helps give more of a flavour about how the programmes work, what to expect and the culture at Louise Parker. If you have any questions, don't hesitate to ask, the friendly team are at your service and ready to help.
Receive 10 free recipes to your inbox!
Sign up and we will send you 10 free recipes